Artist Statement
My imaginative universe of art is inspired by nature, music and eastern spiritual concepts. The art forms of abstract expression I create in my paintings are unique and alive, full of bursting and positive energy. I try to capture the moments from memories and emotions for my creation. I hope my abstract paintings can invoke dialogues and stretch the imagination. My intention is to actively create positivity and transcend beyond ordinary life in an upright and bright manner.

My art is aimed to condense the elements in life and essence of the universe onto canvas. Dripping, dropping, swiping are usually the beginning of my practice and I let the color mix of fluid acrylic and flashe paint move around organically with the manipulation of brush strokes. I especially apply brush techniques I have learned from calligraphy to create the dynamic feelings in my painting. My practice is very intuitive, liberating, and personal, with the intention to create a play of colors and forms that invite open discussion and interpretation. It's also a way of expressing my gratitude for every moment, living and breathing, as well as my love and respect for the world as it hopefully recovers from covid.
I would love to make a flow of energy visible - capturing its magic, inner glow and essential form.
Biography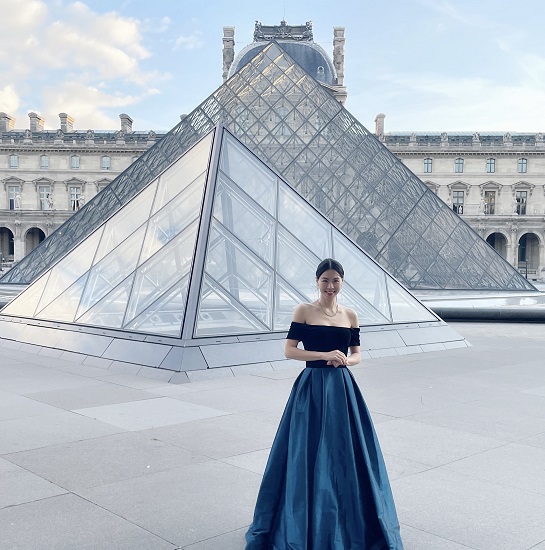 Known for creating mesmerising abstract art, Gabrielle Mar is a Los Angeles based Taiwanese-American artist with Vietnamese and French cultural backgrounds. She studied as a Ph.D candidate in Visual Arts at University of California at San Diego, with research focused on the intersection of Eastern and Western modern art. She also received an M.A. degree in East Asian Studies with a focus on Japanese modern art history from University of California at Santa Barbara.

Gabrielle was trained in traditional Chinese calligraphy starting at a young age by her grandfather and spoke Chinese, English, French and Japanese. She has taken practical painting lessons at the Art Student League of New York while living and working in Manhattan.

Her works have been shown in group exhibitions at the Tokyo Metropolitan Art Museum, Focus Art Fair at the Carrousel du Louvre in Paris. Most of her works have been collected in the US, Taiwan, France, and UK. She is a member of Los Angeles Art Association and the National Women Artists Association.
PRESS
Artist Talk Magazine | 12.28.2021
Wesley Girls High School Alumni Association | 08.01.2022
CHARITY
Make-A-Wish New York | Toast To Wishes 2021
AWARD
21st Japan International Art Exchange Exhibition Excellence Award